Rich snippets and other features that you can obtain on Google's SERP using the schema markup in 2019
Within the past 10 years, the appearance and function of Google's SERP have drastically changed with the inclusion of several rich snippets and SERP features that provide additional functionalities for users and adds challenges for SEO experts.
In fact, these rich snippets provide unique opportunities to increase CTRs as well as lower opportunities of appearing on the SERP with a simple blue link. This guide will introduce you to the various forms of rich snippets you can find on the SERP and then will focus on using structured data to optimize your content for rich snippets.
Let's start with the basics…
What are Rich Snippets and SERP Features and why they are important?
When you search for Neil Armstrong on Google, you will receive different results both in the form of snippets and blue links. What distinguishes a rich snippet from a normal one is that a rich snippet is a specialized form of search result that is tailored for a particular task or function rather than a simple blue link.
In this example, you can see a Knowledge Card about Neil Armstrong, a collection of movies about him, a group of people who are usually searched together with this astronaut, and a series of Top News which refer to this search.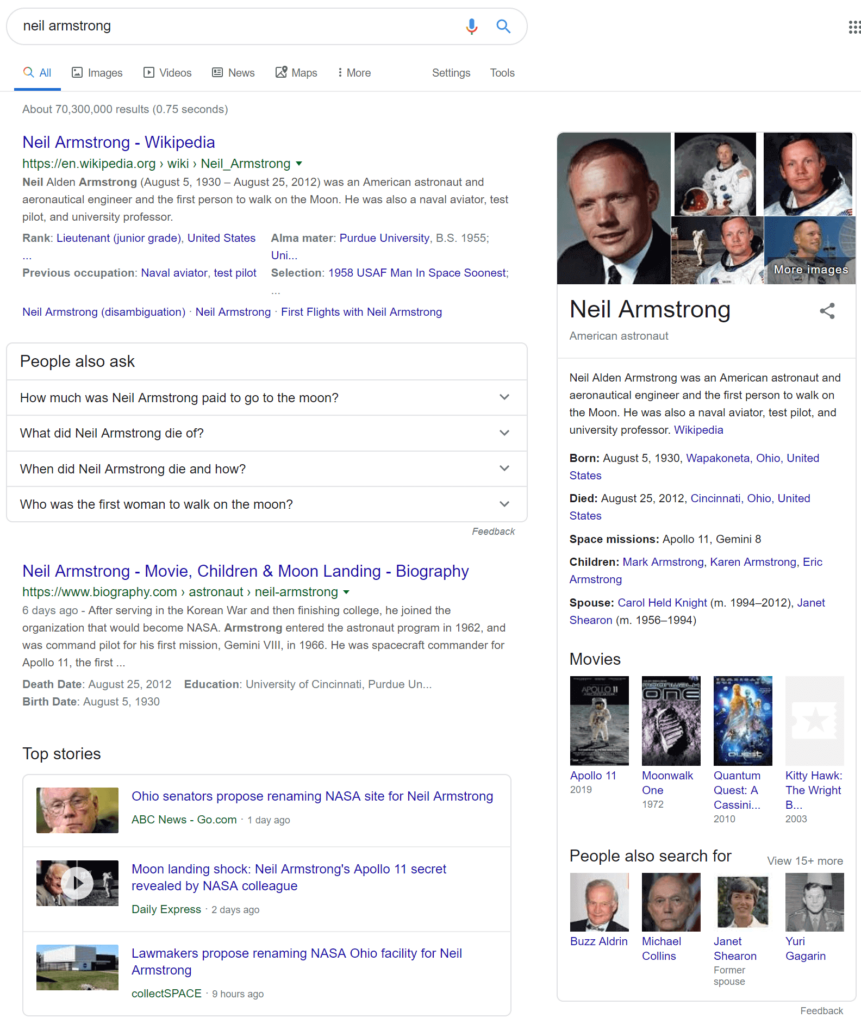 Other examples include: the movie schedule for a given cinema when searching for movies in your area. When searching for a chocolate cake, a photo, item description, nutritional information and recipes pop-up.
What makes rich snippets important in SEO is that now, these snippets have become more important than the regular blue links. Rich snippets are more engaging as they can contain pictures, highlighted information and links more closely associated with the search terms. In addition, they are viewed as both more trustworthy and convenient as not only does the content stand out from the other search results, but it is far more likely to be much more closely associated with the official content such as an official website and social media.
An Important Note on Structured Data
Much of these rich snippets require the development of structured data to fully utilize their benefits. Structured data is an on-page markup that adds additional information to your website and provides it to users seeking relevant information on the SERP. It utilizes HTML coding and Schema markup to communicate with the search engine regarding your content.
Here is what Google states on its introductory guide to structured data:
Google uses structured data that it finds on the web to understand the content of the page, as well as to gather information about the web and the world in general.
In this article, you will find more specific information on how to optimize your content for each type of rich snippet using structured data.
We at WordLift can help you develop structured content for your website, not only to be on the Google SERP, but to appear in the newer, much more engaging content found in rich snippets. We'll go through the types and uses of much of this data using the schema markup. If you're wanting more specific uses of structured data or how best to utilize it for your content, we're always happy to provide our services and assistance.
Informational – The Do-It-All Features
Some search features are just as potatoes: they can be served in a number of different ways and are a good pairing with a good number of different plates. In this page, you will find out how to obtain visibility with:
Featured snippet
PAA
FAQ
How-To
Answer Box Results
Explore Panel
Knowledge Graph Carousel
Site Links
Featured Snippet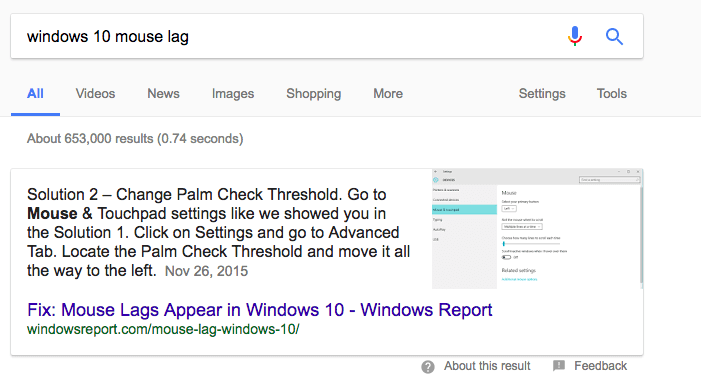 A featured snippet features a website in a specialized format, providing a relevant passage and an accompanying photo. Featured snippets on Google may lead to higher CTRs, due to their more highlighted presence and description.
To increase the odds of being featured in a featured snippet, your website should include at least a brief description relevant to the topic. The more precise and vivid you are in your descriptions, the more likely it is that Google will understand your webpage. A more careful selection of keywords will also help Google's algorithm understand the website.
Structured Data and Featured Snippets
Structured data may help, but it's not always needed to appear with a featured snippet. In this case the most relevant answer with a well-curated formatting is often enough.
PAA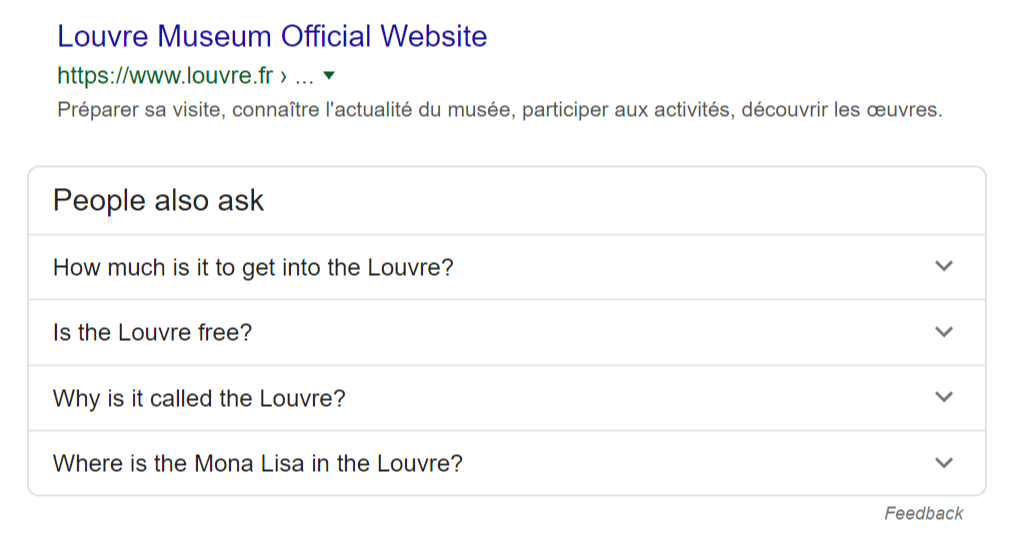 People Also Ask (PAA) is a rich snippet that contains a selection of questions that are similar to those found in a Q&A section of a website. Each question in the snippet can be opened to reveal its corresponding answer. As a question is selected, the revealed answer lists to a website and the snippet expands to add more questions related to the one answered.
If you want the answers in the snippet to link back to your website, start by optimizing your content for each targeted query. Adding keywords to headings and use paragraph tags also helps. Keep in mind that if you want to be on a PAA snippet list for a particular question, you will want to make sure your content meets the News Publisher criteria for fact checks.
Structured Data and PAA
Utilizing structured data is a vital aspect to having your website provide answers on the PAA snippet. Using the Schema.org markup, answers can be provided in different forms, such as: specific questions from an FAQ or Q&A page (Question markup), specific questions and their specific answers (QAPage markup) or instructions on how to achieve a result by following sequential steps (HowTo markup). Using these markups will make your content more likely to appear on the SERP as part of a PAA snippet. Read the full definitions of Question, QAPage and HowTo on Schema.
FAQ
A Frequently Asked Questions (FAQ) page uses official questions from a website on a particular topic. Note that this is only for official answers and questions and should not include content submitted by other users. This rich snippet appears in a block comprising of a series of similar questions, similar to the PAA section. The block titles indicate more specific questions. A FAQ page is useful for:
General business enquiries
Inquiries arising from brand properties
Inquiries concerning long-form products
Inquiries concerning specific products
Each question in a FAQ page depends on the answer provided. The more Google can provide answers, the more chances there are for users to find their way to the right website. For each section, it's recommended that you add a title describing the content of the questions as a means of content organization and helping Google identify your content.
The FAQ type indicates that the page contains a question and answer excerpt. If the content is a long-form answer, you may want to consider including an FAQ section on your website.
Structured Data and FAQ
Note that FAQ is a structured data dependent feature which uses the FAQPage schema markup. You can use the Structured Data Testing Tool to validate and preview your content. The full definition of FAQPage is available on Schema.
HowTo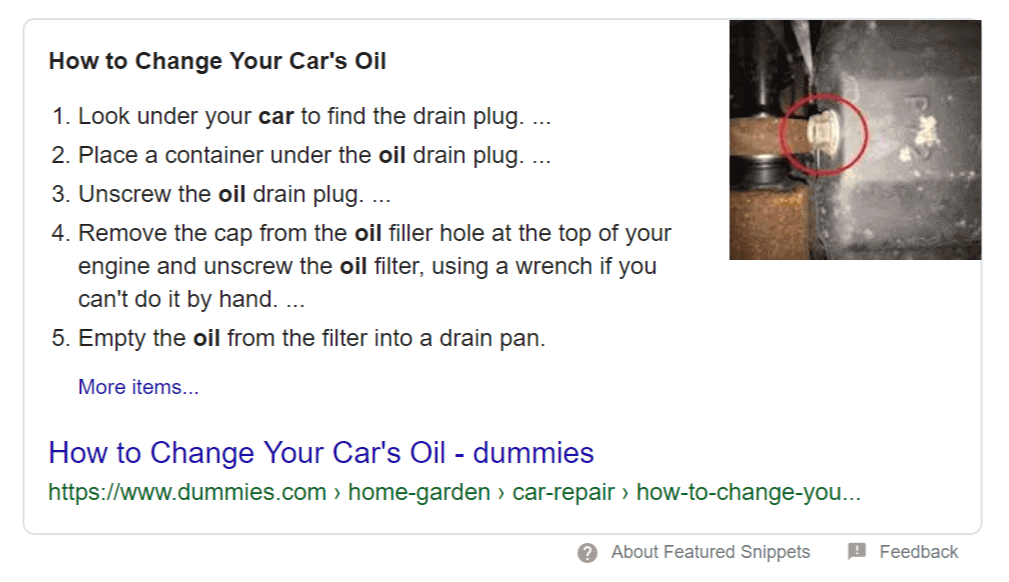 HowTo results are snippets that present instructions on completing a specific task or activity. These results can be categorized into varying types depending on the kind of details that need to be provided. The HowTo type indicates that the page contains a tutorial, a list of steps, or a list of actions. There are two types of HowTo types:
A pre-filled HowTo type, represented by a container element containing steps or a list of steps.
A more structured data-heavy HowTo type, represented by a child container item containing an HTML snippet.
The former type is intended for informational content that answers questions, while the latter type is designed specifically for videos and other experiences that require viewers to follow a series or a chapter in order to be successful. Note that HowTo structure type does not include recipes, as that has its own form of structured data markup.
Structured Data and HowTo
You must include the required properties for HowTo pages for your content to be eligible to display it as a rich result. Most websites are able to display HowTo rich results regardless if they have HowTo structured data. You can use the Structured Data Testing Tool to validate and preview your structured data. Please note that HowTo pages may not appear in all languages. The full definition of HowTo is available at Schema.
Answer Box Results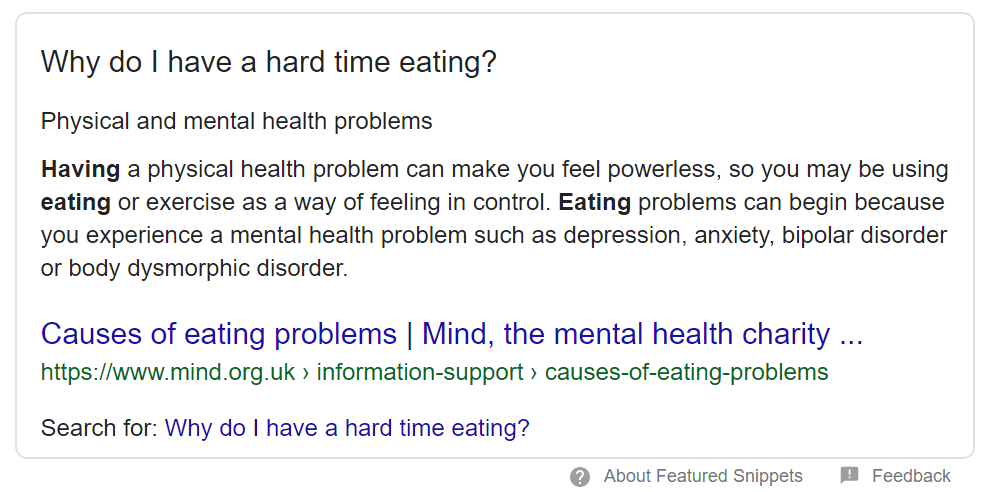 This is a snippet that you might see on the SERP for question queries like "Why can't I eat?" The Answer Box usually appears at the top of the main feed under AdWords results. It's part of the core Knowledge Graph that contains other relevant contextual information like ratings and questions. When you click on it, you'll be taken to a result that lists the previous or current queries of the users.
This feature is helpful for those users who can't provide a specified question, as the previous search results can show the answer. This feature is also useful for content creators, as it makes their content more likely to appear. This feature can also be seen in the Top Stories carousel.
Structured Data and Answer Box Results
While there isn't a specific markup of structured data that is utilized with the Answer Box Result, you can use HowTo, Question and QAPage to provide useful markup for your page. Providing keywords, entities (people, places, objects) and direct answers to a provided question can help to highlight your website. The full definitions of HowTo, Question and QAPage andcan be found on Schema.
Explore Panel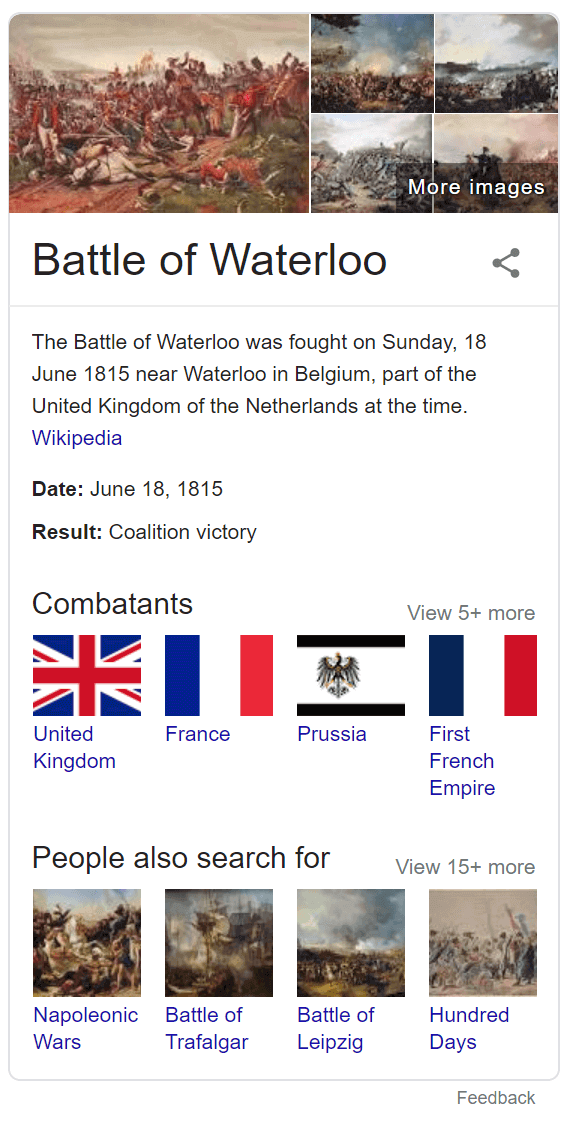 The Explore Panel displays a card with up to seven images, a description (usually from wikipedia), important information, and related searches. In the above example of the "Battle of Waterloo," the panel includes several images related to the event, a brief description linked to Wikipedia, some important information and related searches.
Three factors drive the inclusion of infographic content in search results: relevance, the number of items to be shown, and the quality of the resulting presentation. Focusing on these factors will help provide enough content necessitate the inclusion of an Explore Panel.
Structured Data and the Explore Panel
Structured data relevance for the Explore Panel has not being documented by Google or suggested by anyone else for the moment being. Still, structured data may help Google better understand and classify your content in order to include it.
Knowledge Graph Carousel

The Knowledge Graph Carousel features information from different sources that are grouped under a specific heading. The main benefit of this feature is the ability to provide more specific answers to a query. All items within a carousel must be of the same type, such as: a recipe or an article. Note that the Knowledge Graph Carousel does not include any Google ads.
To maximize the visibility of your content, it is recommended to update your web pages with schema markup. This will make the content eligible for the Knowledge Graph feature. The Knowledge Graph Carousel contains information from Google's Knowledge Graph, which has a lot of different websites under its roof. It can help your site reach the right keywords by providing a better contextual link between the different websites. SEOs can then focus on optimizing websites to provide users with the information that Google needs.
Structured Data and the Knowledge Graph Carousel
Using the ListItem markup will allow you to list the items that will be used for the carousel. This can be done as separately, listing all of the items linked to different pages; or as one page, providing the full information of each item. The full definition of ListItem is available at Schema.
Site Links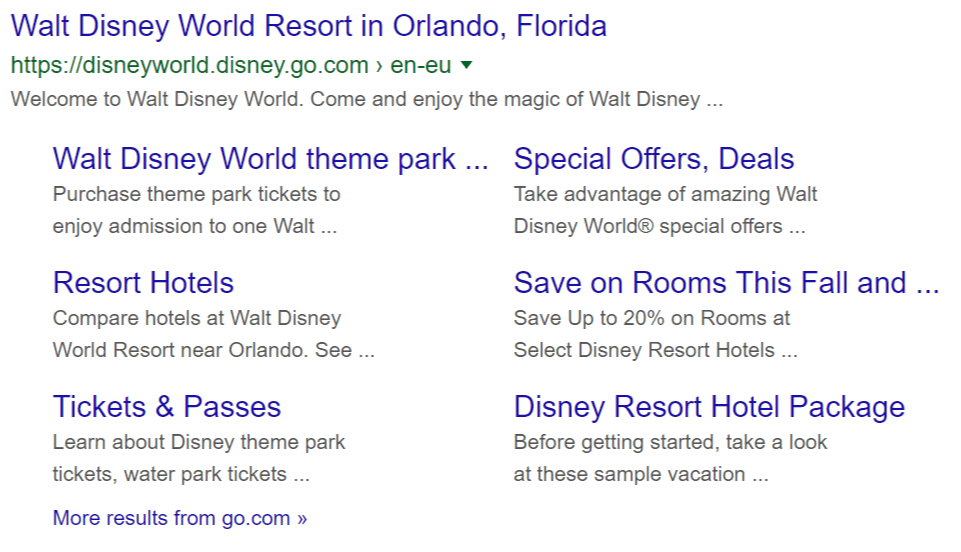 Google Search can also expose sitelinks. This results in a white box with links to subsections of a website appearing under the results on the SERP, which can help users reach the right sections of a website. Google Search can also automatically add a sitelinks search box or sitelinks search result to your site if it can prove to Google that the search intent of the users is not being served the content through other means. Here is an example of a sitelinks search result, which is shown for searches related to 'DisneyWorld'
The sitelinks feature includes an embedded search box that provides quick access to a website's search results. Google Search can automatically add this search box to your site if it detects content that qualifies as technical information for a search question or a result that answers a question.
Structured Data and Sitelinks
A search box can also be added to your website, so long as you're using its own search engine embedded in the site. Then, use the WebSite schema markup to provide structured data for the search box. The full definition of WebSite can be found at Schema.